A Closer Look
at Our 2022
Charitable
Partners
A Closer Look
at Our 2022 Charitable Partners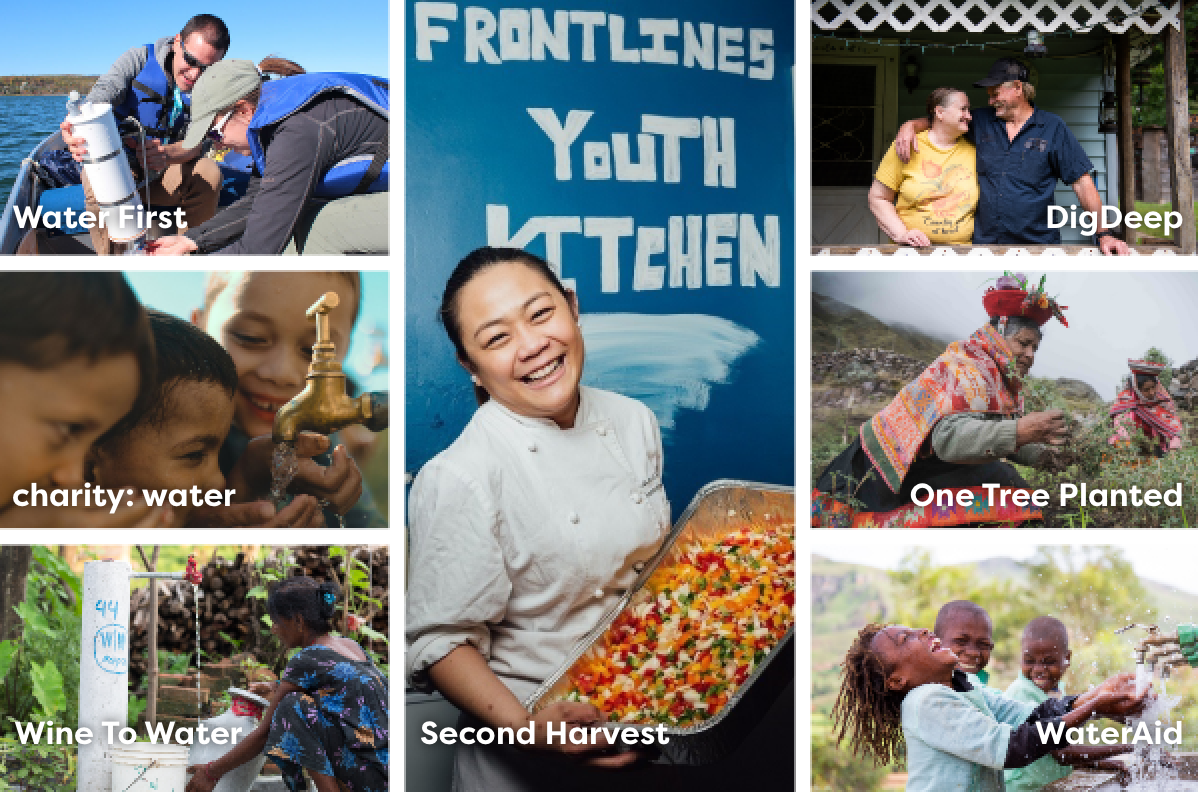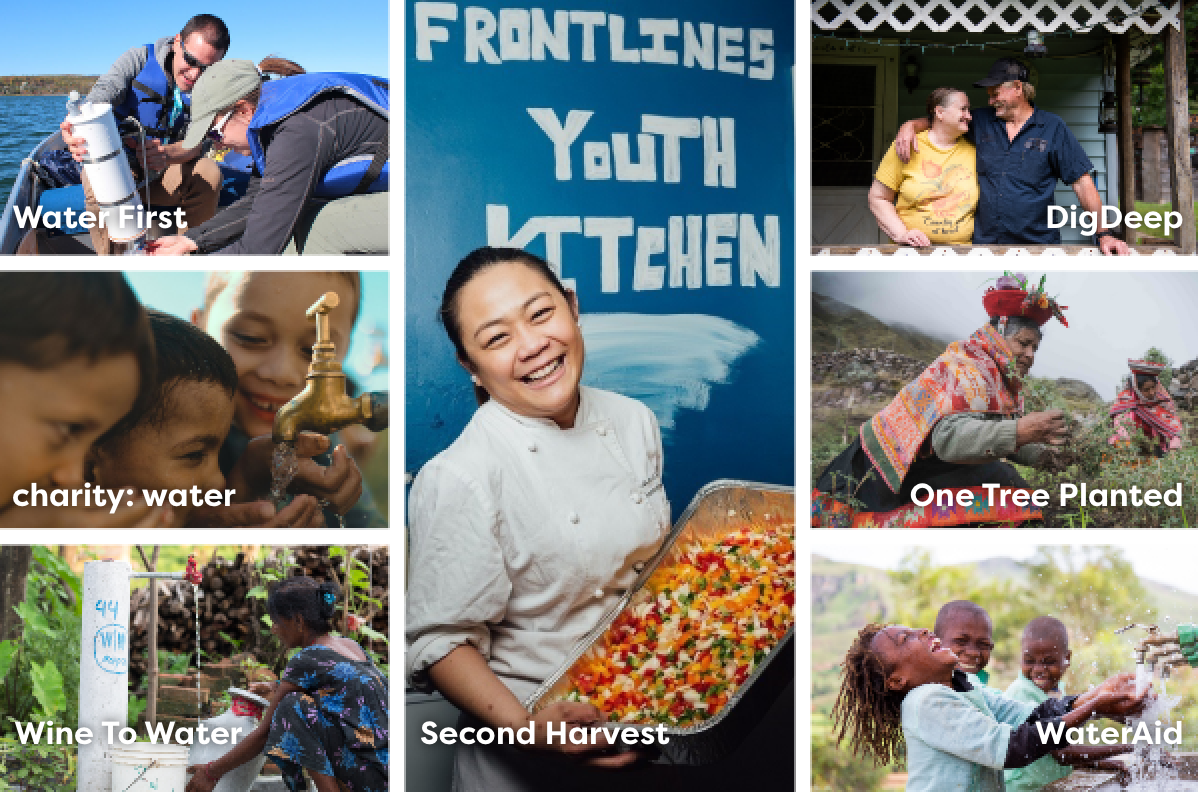 One of the easiest things you can do to prioritize your health is to ensure you're drinking enough water. Yet today, nearly 1 billion people still lack access to clean water. 
Our incredible charitable partners are working tirelessly to bring sustainable solutions to communities around the world. In their own way, each organization is working to combat issues we are facing as a globe including providing access to clean water, access to nutritious food, and replenishing our forest. Here is a summary of their approach to this incredible work.
WaterAid is working in 35 countries, including the US and Canada, to increase access to safe and clean water for sanitization and good hygiene. Their mission is to "transform the lives of the poorest and most marginalized people by improving access to safe water, sanitation and hygiene." WaterAid understands the reality that taps, wells, and pipes that would typically deliver clean water don't exist in many countries. To aid the communities, they use donations to set up practical and sustainable safe water, sanitization and good hygiene to meet their needs.
charity: water has a big audacious goal to end the global water crisis. To date, they have worked in 29 countries, serving 13,000,000 and more people through the funding of over 79,000 water projects. Clean water is the basis of good health, education and opportunity for everyone. It's the foundation necessary for a stronger generation and a brighter future. charity: water believes that with the strength of everyone working together, it is possible to provide access to life's most basic needs within our lifetime.
DIGDEEP is a human rights nonprofit serving over 2.2 million Americans without sinks, bathtubs or toilets. The amenities we take for granted each day. Their impact model consists of advancing community-led solutions, developing an evidence base, mobilizing America and building an ecosystem of change. Through these four pillars, DIGDEEP can bring safe and clean running water to the Americans that need it most. 
Water First Education & Training is one of the top charitable organizations in Canada reacting to water challenges in Indigenous communities through education, training and meaningful collaboration. It's a shocking but true reality that Canada's 13.5% of First Nations are under a boil water advisory. In Ontario alone, 40% of the First Nations are in this situation. Water First thus far has collaborated with Indigenous communities in Manitoba, Ontario, Quebec and Labrador. 
Wine To Water is a 1% for the Planet nonprofit partner committed to supporting life and dignity through the influence of clean water. Founded by Doc Henley in 2007, Wine to Water has since impacted over 1,315,952 people in over 960 communities. Through donations and support of their filter build programs, projects include: Digging and repairing wells. Supplying areas with filtration systems and storage containers. Educating locals on how to maintain freshwater supplies. 
Second Harvest is Canada's largest food rescue organization, providing over 62,000 meals a day to people in need. They are trying to combat the environmental and social issue of food waste each day by working through the whole supply chain and capturing excess food before it goes to the landfill. They run multiple programs to feed those in need in their communities as well as children in city camps. Feeding those in need is just as important to them as educating them on the importance of good nutrients. 
One Tree Planted is a 1% for the Planet company working to restore our forests. With each dollar donated, a tree is planted. Reforesting is essential to clean the air we breathe, filter the water we drink, strengthen the biodiversity in the area and improve our health and the health of our planet by capturing carbon dioxide. So far, they have planted over 40,000,000 in more than 43 countries and hope to make it simple and accessible for anyone to plant a tree one day. 
With the help of our charitable partners, we've made it possible for you to reuse and give back at the same time. Using the Fill it Forward App you can track your daily water intake while also funding our charitable partners' giving projects around the world. 
———————————
To support a custom giving project email us at info@fillitforward.com and amplify your impact today!