People's Credit Union: A Community Leader and Teams Champion
Client Success Story: People's Credit Union
The Team at People's Credit Union have gone above and beyond to ensure organizational sustainability and create a notable difference within their community and for the planet. Courtney has demonstrated high employee engagement using the Teams component of the App and personalizing Fill it Forward resources (videos, graphics, social media templates). Also, in the new onboarding program, each new employee receives a new Fill it Forward bottle on their first day! This helps new hires to understand what the culture is all about. 
Courtney raised awareness on local media and has motivated more than dozens of participants to use their own Fill it Forward bottle (with a unique QR Code) to eliminate single-plastic use. These combined efforts have diverted more than 6,700 single-use plastic bottles from the landfill in less than four months! The significance cannot be overstated: these simple acts of reuse have made a meaningful impact on the planet.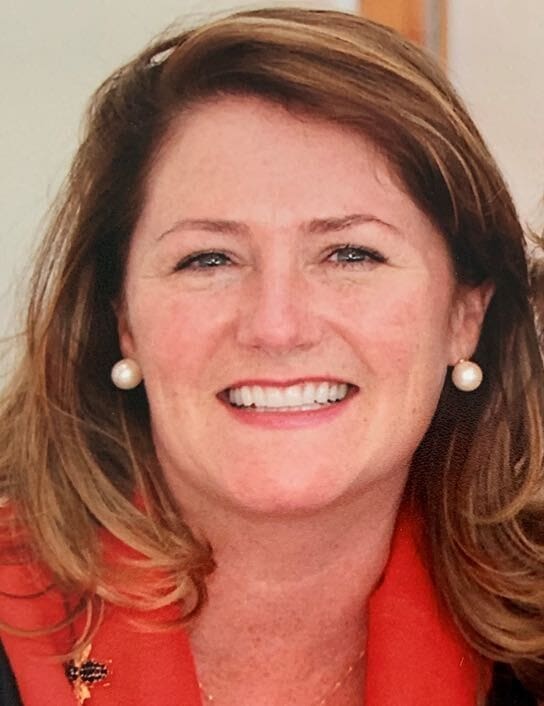 "Programs like this are good for the soul. For us, it was a no-brainer."
– Courtney Hunter, Marketing Manager
How were you able to very effectively engage your Teams? What were your strategies?
Beforehand, I did my research before seeking out a partnership with Fill it Forward. Once I read through your website, I realized our missions aligned perfectly: there was a strong interest in sustainability and giving back. "I knew right away this would be a good fit." "Fill it Forward is an amazing team to work with. Each employee has walked me through every step of the way."
Next, we developed a 'launch plan' to promote the Fill it Forward project internally, with our employees. Leveraging the marketing materials from your Success Hub, we co-branded our bottles to create inspiration. Our goal was to help employees understand what we were trying to accomplish. First and foremost, they loved receiving a reusable water bottle, since there is a strong effort to reduce single-use plastics within our organization. In our breakroom, we already try not to use disposable cutlery or cups, so this fit well.
We also rolled it out in phases to increase engagement. With high internal communications and pre-planned 'Fill it Forward Team Challenges', we helped garner excitement. We also had Tags at our water stations to remind people to scan after each reuse, and we customized Fill it Forward bottle inserts. Our CEO also customized a Fill it Forward video to maximize our launch. 
We marketed through other channels of communication: social media, member newsletter, branch materials which were passed out with our membership on a daily basis. The Dr. Martin Luther King, Jr. Center community center was so excited about this program and was so amazing to work with, which helped to deepen our connection and partnership.
Finally, the folks at our local Dr. Martin Luther King Jr. Community Center fulfilled the requirements to be a custom charity with Fill it Forward. We aligned with their interest in food security as well as their hunger assistance programs. Currently celebrating their centennial year, this was our inspiration to work with this incredible resource in our community. I believe this charitable component improved engagement with our employees and allowed us to meet our goal of 5,000 reuses ahead of our target.
As People's Credit Union and the Center are both celebrating our centennial year, this was our inspiration to work with this incredible resource in our community. 
Why did you choose Fill it Forward?
This program allowed us to continue supporting various programs within our community. The entire team at FIF has been super helpful and supportive. Whenever I've had a question, whether it's about technology or community impact, I have been educated and pointed to helpful resources for our marketing initiatives. "We have been very grateful."
You decided to implement Fill it Forward first internally and then with your external members. What led you to this decision?
We are a member-based organization, so once this was an internal success, we decided to roll this out for our (external) members. We immediately saw huge interest and excitement, thanks to the large environmental stewardship in our community. Including our members in this program was a straightforward decision: "for us, it was a no-brainer."
Why is engagement important to you?
There are so many reasons. The ability for an organization to engage with its employees is an indicator of its culture and health. Engagement shows what employees care about. For example, we are proud to say that last year we had 100% employee volunteer participation in our community. Engagement is important to us, so this was a great fit. We couldn't be happier.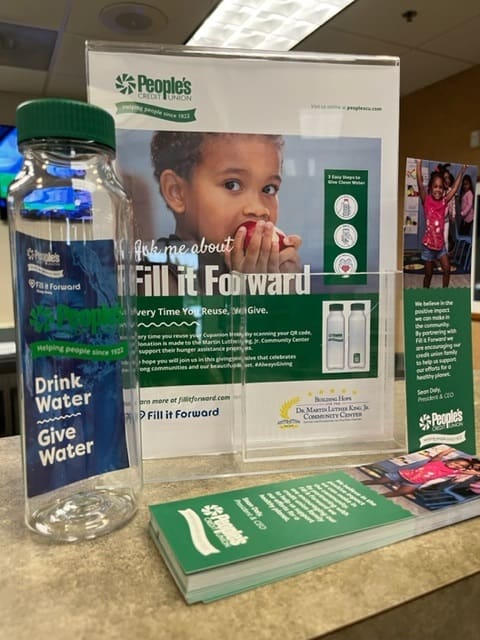 What have been the benefits for your organization?
Programs like this are good for the soul. This was really fun. Sometimes meaningful work can also be very hard. I don't find this program to be hard; it feels natural and uplifting. This has positively benefited both our employees and our membership, and as a mission-driven organization, we always provide our members with the best products and services possible. We provide education for our community including financial literacy through our products and services, and always seek to enhance the communities that we serve. "Fill it Forward really supports our core values."
What would you like shared? What would you recommend to other organizations who want to take this on?
Listen, I am a big believer. "I would say, definitely dip your toe into the water and learn about what the folks at Fill it Forward can do to help create stronger relationships within your community. Whether you are interested in community wellness or charitable partnerships, this is a terrific tool for employee engagement and is a lot of fun! If you choose to embrace this partnership with Fill it Forward, you will find out that all of your stakeholders will be rewarded.
Anything you'd like to shout out?
"It's fun to partner with an organization that has community and worldwide wellness in mind! It is very powerful."
Interested in partnering with Fill it Forward?
People's Credit Union's Impact
Interested in partnering with Fill it Forward?